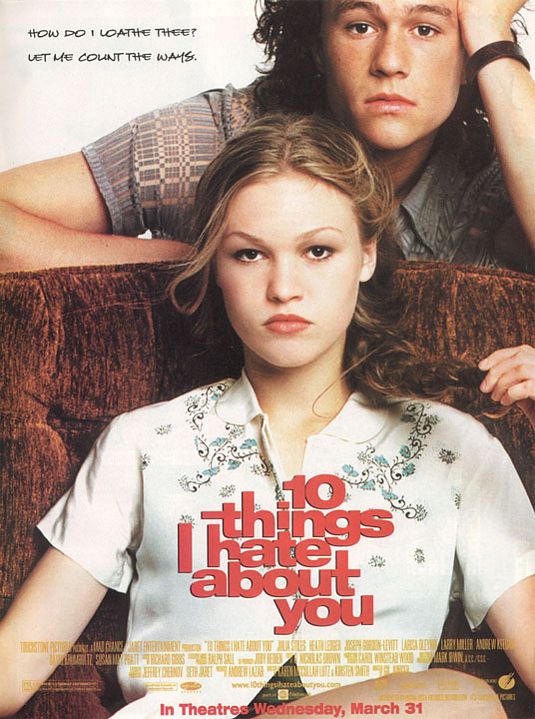 I present this list in honor of Joseph Gordon Levitt and 10 Things I Hate About You being on T.V.
10. The guidance counselor, Ms. Perky
9. The different cliques at the beginning
8. When that kid Michael (a.k.a Cameron's geeky friend) quotes Shakespeare in the lunchroom and Heath Ledger says
"Hey! Don't say shit like that to me. People can hear you."
7. How much of a douche is Joey Donner? It's too perfect, I love to hate him!
6. How Heath Leger buys her the guitar she wanted at the end of the movie
5.When Bianca beats up Joey at the prom, and then asks Cameron if he's ok, and he says "Never been better" !!!!! so sweet!
4. Of course I have to include this: Julia Style's sonnet:
I hate the way you talk to me, and the way you cut your hair.
I hate the way you drive my car. I hate it when you stare.
I hate your big dumb combat boots, and the way you read my mind.
I hate you so much it makes me sick; it even makes me rhyme.
I hate the way you're always right.
I hate it when you lie.
I hate it when you make me laugh, even worse when you make me cry.
I hate it when you're not around, and the fact that you didn't call.
But mostly I hate the way I don't hate you.
Not even close,
not even a little bit,
not even at all
3. The dad! He's the best!
"Kissing isn't what keeps me up to my elbows in placenta all day long"
2. The scene where Heath Ledger sings "Can't Take my Eyes Off of You"
1. Joseph Gordon Levitt